Cisco Command Line Interface (CLI) Modes
Written by Packet Lab | Tuesday, 02 February 2010 20:21 Last Updated on Tuesday, 30 March 2010 18:59 by Packet Lab
To aid in the configuration of Cisco devices, the Cisco IOS command-line interface is divided into different command modes. Each command mode has its own set of commands available for the configuration, maintenance, and monitoring of router and network operations. The commands available to you at any given time depend on the mode you are in.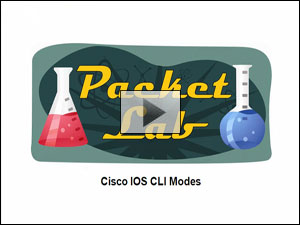 Cisco IOS CLI Modes - Part 1
Cisco IOS CLI Modes - Part 2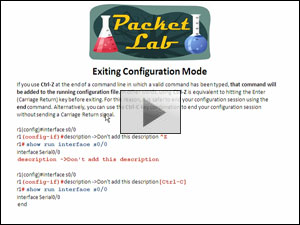 Cisco IOS CLI Modes - Part 3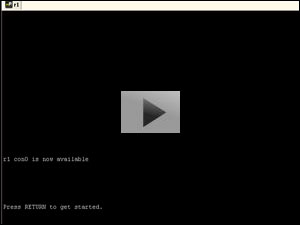 Cisco IOS CLI Modes - Part 4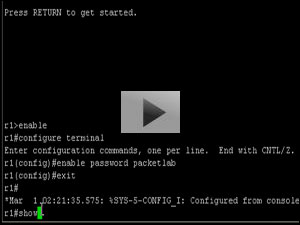 Cisco IOS CLI Modes - Part 5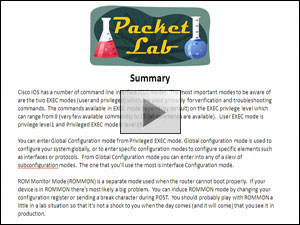 Cisco IOS CLI Modes - Part 6
---
The Quick and Dirty
Cisco IOS has a number of command line interface (CLI) modes. The most important modes to be aware of are the two EXEC modes (user and privileged) which are used primarily for verification and troubleshooting commands. The commands available in EXEC mode depend (by default) on the EXEC privilege level which can range from 0 (very few available commands) to 15 (all commands are available). User EXEC mode is privilege level 1 and Privileged EXEC mode is level 15.

You can enter Global Configuration mode from Privileged EXEC mode. Global configuration mode is used to configure your system globally, or to enter specific configuration modes to configure specific elements such as interfaces or protocols. From Global Configuration mode you can enter into any of a slew of subconfiguration modes. The one that youll use the most is Interface Configuration mode.

ROM Monitor Mode (ROMMON) is a separate mode used when the router cannot boot properly. If your device is in ROMMON theres most likely a big problem. You can induce ROMMON mode by changing your configuration register or sending a break character during POST. You should probably play with ROMMON a little in a lab situation so that its not a shock to you when the day comes (and it will come) that you see it in production.
---
Command and Configuration References
---
Additional Resources
---
Quiz link (Registered Users Only)
Lab link
Search Terms: Cisco IOS CLI Modes, Command Line Interface Modes, Privileged EXEC Mode, User EXEC Mode, Configuration Mode