Connecting to Cisco Console Port with HyperTerminal
Written by Packet Lab | Tuesday, 27 April 2010 16:26 Last Updated on Tuesday, 27 April 2010 16:47 by Packet Lab
Hyperterminal is a communication program that was included free with Windows Operating Systems starting with Window 95 and ending with Windows XP.  This program can be used as a terminal emulator as well as to connect a PC to a Cisco device via the console port.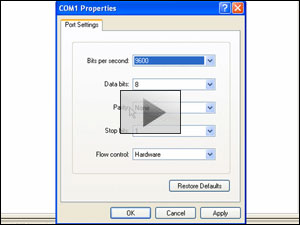 Connecting to Cisco Console Port with HyperTerminal
The Quick and Dirty
While Hyperterminal is not generally the best choice for use as a terminal emulator, you may be stuck in a situation where it's the only available terminal emulator (less likely now as Microsoft has stopped bundling Hyperterminal with its newer Operating Systems).  This lesson shows you how to use Hyperterminal to connect to the console port of a Cisco device.
---
Command and Configuration References
---
Additional Resources
What happened to HyperTerminal?
---
Search Terms: Hyperterm, Hyperterminal, Windows XP, Microsoft, console port, baud rate, data bits, parity, bits per second, flow control, com port